iOS 4.3 to Debut on February 14th?
By Eric Slivka
Sat, February 05th, 2011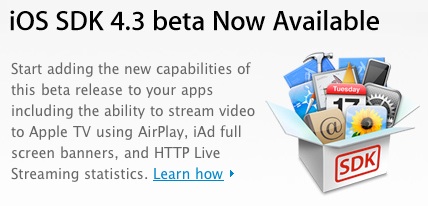 MacStories reports
that it has heard from a "reliable source" that Apple is planning to release iOS 4.3 to the public on February 14th at its typical iOS software update time of 10:00 AM Pacific Time / 1:00 PM Eastern Time.
According to several reports surfaced earlier this week, Apple is targeting a release of the next major iOS update, version 4.3, in two weeks. We just got word from a reliable source that iOS 4.3 should be available on February 14th at 10 AM PST.
A growing list of
rumors and speculation
have suggested that the iOS 4.3 launch, and possibly an introduction of the next-generation iPad, could occur within the next two weeks. Among the pieces of evidence are AT&T rolling out support for personal hotspot service with modified data plans for tethering as of February 13th and free access to
The Daily
running out in the middle of that week. iOS 4.3 includes support for personal hotspot functionality and the in-app subscriptions that will be required for
The Daily
once the free access period ends.
Apple vice president Eddy Cue
noted
during the introduction of
The Daily
earlier this week that Apple will make an announcement soon about bringing in-app subscriptions to other publishers. It would obviously be appropriate to make such an announcement right around the time of the iOS 4.3 launch given that those capabilities are included in the update. But it is unclear whether Apple will hold a dedicated media event to show off the new in-app subscriptions (and possibly offer a preview of the second-generation iPad) or simply issue a press release coinciding with the software release.