iPad 2 Screen Thinner, Anti-Reflective, 1.2GHz Dual Core CPU?
By Arnold Kim
Mon, January 31st, 2011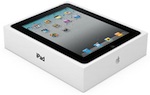 An analyst from Concord Securities is claiming to have knowledge of some of the upcoming iPad 2 components in their latest research note. According to Ming-Chi Kuo as reported by AppleInsider, the iPad 2 display will not get a higher resolution display as some have hoped.

Instead, the iPad 2's screen improvements will focus on thickness and anti-reflection. The screen is said to be 30-35% thinner and also offer a better sunlight reading experience due to the anti-reflective properties.

The report also claims that the next iPad will use a Cortex A9 dual core processor running at 1.2GHz, as well as Imagination Technologies' SGX 543 dual-core GPU. The iPad 2's RAM will also see a much needed boost to 512MB, equal to the iPhone 4. The iPad 2 is also expected to use the same lower quality front and back cameras found in the iPod Touch.

It's hard to tell where this information is sourced. Some pieces have been reported, but some specifics (1.2GHz, anti-reflective screen) seem to be unique information.