Apple to Remove Home Button From Future iPads and iPhones?
By Eric Slivka (MacRumors)
Thu, January 13th, 2011
With Apple using the new developer build of iOS 4.3 to test
new multi-touch gestures
for accessing the home screen and switching between applications, speculation immediately arose that Apple might be considering doing away with the home button on the iPad as a means for shrinking the device.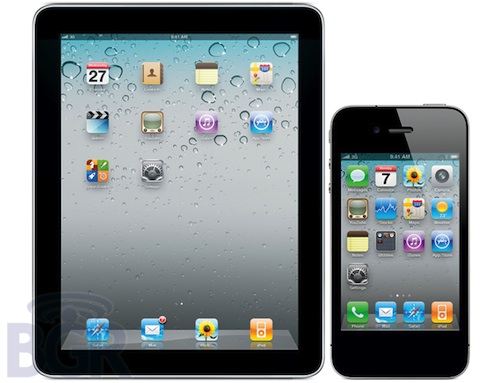 Mockups of iPad and iPhone lacking home buttons
According to BGR
, Apple is in fact contemplating doing just that, with both the iPad and iPhone being considered for home button removal.

We have exclusively been told that the reason Apple just added multitouch gestures for the iPad in the latest iOS 4.3 beta is because the iPad will be losing the home button. Yes, we are told that Apple, at some point in time, will remove the home button from the iPad's design. Instead of button taps, you will use new multitouch gestures to navigate to the home screen and also to launch the app switcher.

That's not all, however. In addition to the home button disappearing from the iPad, we're told that this change will make its way over to the iPhone as well. Our source said Apple employees are already testing iPads and iPhones with no home buttons on the Apple campus, and it's possible we will see this new change materialize with the next-generation iPad and iPhone devices set to launch this year.
BGR
's source also indicates that the next-generation iPad may gain Photo Booth functionality and more iPad-specific versions of iLife applications.
The potential removal of the home button is certain to be controversial, as
Daring Fireball
's John Gruber
argues
that the single physical feature on the front of the device serves as a reference for new users, allowing them to intuitively know how to use the device the first time they pick it up.

These gestures do mean that you don't have to use the Home button. But there's a serious discoverability problem with them. The physical Home button is impossible to miss. That it is the one and only button on the faces of these devices is a big part of why normal people are able to pick them up, start playing with them, and figure out how to get around with no help. How in the world would a normal person figure out or guess that they need to do a "five-finger pinch" to get back to the home screen?
Usability issues are an even bigger hurdle on the iPhone, with its limited screen size for many-finger gestures and the ease of use it currently enjoys with one-hand operation using solely the thumb to navigate around the device.